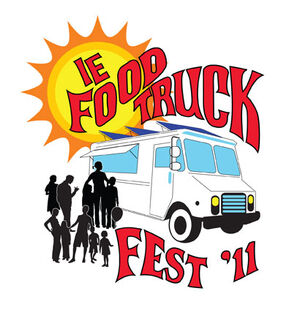 The IE Food Truck Fest is a family-friendly food truck festival with live entertainment, children's activities, and giveaways, that celebrates local businesses.
The IE Food Truck Fest is located in Ontario, California. Their 2011 festival will be at the Citizen's Bank Arena in Inland Empire, starting Saturday, October 8, 2011. Tickets went on sale August 13.
This year is the first year that IE will also be including beer in the food truck festival, referring to it as a "food truck and brewfest". Their mission is to bring 50+ delicious local food varieties to southern California.
List of vendors
Edit
Ahn-Joo
Bakerytruck
The Boba Truck
Bool BBQ
Cheeseball Wagon
Chef Che's Argentine Cuisine
Chomp Chomp
Chunk-n-Chip
Coolhaus
Crepe'n Around
Crepes Bonaparte
Curbside Cravings
Dogzilla
Don Chow Tacos
Dos Chinos
The Greasy Wiener
Great Balls on Tires
The Grilled Cheese Truck
India Jones
Kabob Express
Komodo
Longboards Ice Cream
Louks Greek Gourmet ToGo
Ludotruck
Mandoline Grill
Meet N Potatoes
Me So Hungry
No Joda's Kitchen
No Tomatoes
OG Tempura
Organic Oasis
Piaggio Gourmet on Wheels
Pogi Boy
Rebel Bite
Rolling Sushi Van
Short Rib Taco
Slap Fish Truck
Slammin' Sliders
Suite 106 Cupcakery
Stella Pierre's Gourmet Grub
Ta Bom
Tango Mango
Tapa Boy
Tropical Shave Ice
Twist Burgers
Valentino's Pizza Truck
Vizzi Truck
Waffles De Liege
White Rabbit
Yalla
External links
Edit